Reading My Way Around The World
I often find myself with reading themes or streaks.  I'll read a series of related books until I need a change of pace, and I can't handle another book about Africa/Afghanistan/Asia, fill in the blank.
Lately I realized that I've been reading my way around the world, both literally and figuratively.  On my last trip to Africa, in September/October, I picked up a copy of Into Africa: The Epic Adventures of Stanley and Livingstone, by Martin Dugard at a bookstore in Nairobi.  I was immediately happy with my selection and found it a fabulous tale from start to finish.  In fact I'm normally remiss to travel with a book that is at its tale end, as it means running out while traveling. I couldn't make myself wait a month to finish it, so I brought it along with.
Knowing I was on the verge of needing another good book, I picked up Wild, by Cheryl Strayed.  An excellent book about a woman hiking the Pacific Crest Trail alone, the year I started college.  Something I've always had an interest in doing, it was a captivating tale.  I didn't want it to end.
After such a fabulous book I found myself in a bookstore in Manila hoping to find something I would enjoy as much.  I stumbled upon City of Thieves, by David Benioff, a great tale set in Nazi occupied Russia that will keep you curious how it will end.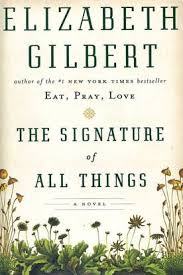 With all the solo dinner reading, I found myself perusing less than a week later to find the next tale that could hold its own.  I ended up picking up Elizabeth Gilbert's new book, The Signature of All Things.  I've read several of her books (author of Eat, Pray, Love), and figured it might be a good pick.  When I read on the back cover that "The Signature of All Things soars across the globe-from London and Peru to Philadelphia, Tahiti, Amsterdam, and beyond," I knew it was a good next selection in my globe trotting adventure tales.  As of boarding my flight I was already half way through, and I can't wait to see where things go.  Excellent book!
Any good adventure tales that you would recommend I add to my reading list?
Happy Tales!
Miel